Mendocino Coast Día de los Muertos Festivities
October - November 1, 2016
contact us at
dayofthedead@mcn.org
Come embrace life, death, family, community, and the art of ritual by participating in this year's Mendocino Coast Day of the Dead Celebration.
We are pleased to pass the organization of the Day of the Dead Mendocino Coast Festivies over to the Friends of Hospice Northern Mendocino Coast. The group will continue the sponsoring of ofrenda displays at "Altar Hall" in the Fort Bragg Library Community Room, and other activities, keeping alive the tradition and beauty of Dia de los Muertos here on the coast.
2016 Schedule:
Altar Hall at Fort Bragg Library Community Room, 499 Laurel St, Fort Bragg
Oct. 30 - noon-4:00 pm
Oct. 31 and Nov. 1 10:00-4:00 pm

Altar Walk at local businesses: entire month of October.
Maps at the Chamber of Commerce office or anywhere there is an altar displayed.
Thank you for all your participation and support through the last six years. We will continue participating and help however possible. It has been an honor working with all of you, Morning & Hilarie.

Check out our Facebook page Mendocino Day of the Dead Festival.
Please note the posters are from previous years. They will be updated at later.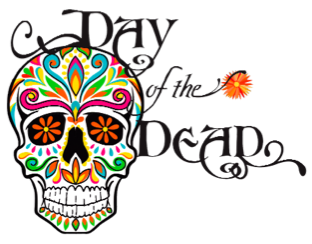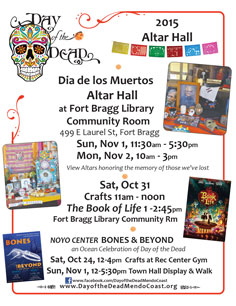 width ="942" height="1020" border="0">